Heating Ventilation and Air Conditioning (HVAC) - Killeen, TX Campus
With flexible timings and small-sized classes, we offer placement assistance, accept most veteran education benefits, and offer financial aid to those who qualify. It's pure joy when our school's graduates get on the career ladder that grants them financial independence and job satisfaction.
Program Details: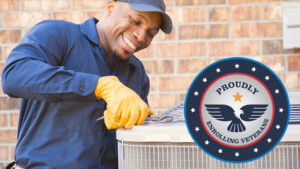 CyberTex has one more feather in its cap. With more than two decades of success in the medical, health, and IT sectors, we added an HVAC course to our school's curriculum. We are proud to announce that we have flexible day and evening classes for the HVAC training program.
➤ Do you enjoy a job that's both indoors and outdoors?
➤ A job that's never boring and lets you work with your hands, keeping you on the go?
➤ Here's a training program for enthusiastic minds like yours that puts you on an exciting career path.
With the ever-increasing construction, constant updates of the technology, the IoT (Internet of Things) integrations, and shortage of skilled technicians, there is no better time than now to be HVAC certified.
About the HVAC Training Course:
CyberTex's HVAC is an 11-month training program with the flexibility of day and evening classes. You will be eligible to take the EPA – 608 certification from the US Environmental Protection Agency with our training.
Other certifications our school's students take at the end of the training program are:
Green Awareness,
System Performance,
Duct and Envelope Testing,
R-410A,
Gas Heat,
System Diagnostics & Troubleshooting,
Basic Refrigeration and Charging Procedures, and
Hydrocarbon Refrigerants Certification of Completion.
At the end of the training program, our school's students are encouraged to take the following ESCO Group "Employment Ready Certifications":
Electrical, Electrical Heat, Oil Heat, Air Conditioning, Light Commercial Air Conditioning, Heat Pump, Geothermal Heat Pumps, Residential & Light Commercial Hydronic Heat, Carbon Monoxide, Safety, Fuel Oil Combustion, Natural Gas Combustion, Combustion Appliance Zone, Carbon Monoxide & Combustion Analysis, and System Recovery and Evacuation.
We pair hands-on HVAC training with industry knowledge, focusing on the job skills employers seek. Our school's instructors have decades of experience in both industrial and academia. In addition, they keep up to date with relevant certifications in the HVAC field.
Under the able guidance of instructors, our HVAC training program covers:
Safety and Shop practices
Basic Refrigeration
Basic Electricity,
Brazing, Soldering, and Piping
Sheet Metal Fabrication and Duct Systems
Air Conditioning
Heating
Commercial HVAC
Commercial Refrigeration
Supervisory Skills & Crew Leadership
*The ideal lab hours will be incorporated where required.
HVAC Career Scope:
Heating, Ventilation & Air Conditioning (HVAC) technicians make our lives comfortable– warm winters and cool summers. The career scope is unlimited, and potential employers could include:
HVAC Installation and Manufacturing Companies
HVAC Service Companies
Business/Commercial/Building/Domestic Equipment Maintenance & Repair
Small, Medium, and Large Enterprises and Businesses.
Plumbing, Heating, and Hardware Supplies and Services
The initial career path will be:
Installation and service technicians
Industrial refrigeration installers
Stationary engineers.
According to the salary.com, an HVAC technician's median salary in Killeen Tx is around $56,075. With the proper certification, these technicians can have their own business generating employment than seeking one. Our training for the certification covers both commercial and residential services.
CyberTex's HVAC technicians once certified will be equipped with solutions for gas, heating and cooling problems, both residential and commercial.
Why CyberTex:
CyberTex's HVAC training program goes beyond basic theoretical instruction. We emphasize hands-on learning. We designed this course with the latest updates in the HVAC field, including the most recent environmental HVAC requirements.
Career Assistance:
Our personalized career services focus on all aspects of career readiness, from finding the right jobs to resume building to interview prep—help, and support you won't find at most HVAC schools. At CyberTex, we take a unique, proactive approach to identifying your strengths and abilities. We are always in touch with potential employers that may help connect you to real opportunities. If you are ready for the challenge, we'll give you all the right tools to be successful.
Veteran and Active Duty Personnel Assistance:
What all soldiers have in common is a desire to be prepared for any change and where it will take them. Therefore, they need a clear, concise plan to successfully transition to the civilian ranks or lead to new opportunities within the armed forces.
Our services include assisting veterans in filing for their educational benefits and disability and transfer of benefits to dependents. Our expert staff help veterans looking to transition into civilian employment by identifying pathways to careers outside uniform services.
Class Date
Ongoing - Few Seats Left
Location
2207 Florence Rd, Killeen, TX 76542
Learn How to Become a Certified HVAC Technician
Learn More